Harma Ceramic American Series Speakers / HARMA G10 CLEAR SAPPHIRE-50-16 OHM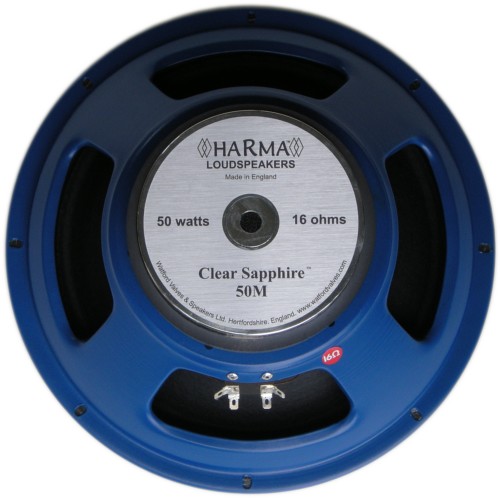 Click on image(s) above to view larger
BACK
All prices contained on this page are exclusive of VAT. This is currently charged at 20% and is payable by the UK only.
Hear sound clips of all our speakers here, click below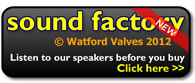 Click on the mp3 icon to download

Additional Sound Clips

select save as to save on your computer.

American guitar speakers are characterised as to having a hard punching midrange with a bright aggressive top end response. The sound of these speakers can be heard in the power and the pain of American blues. A power that was so strong that it went on to revolutionise the shape of American music and influence the world.

The Harma ceramic American gem series speakers have been developed to provide a canvass for the modern day guitar player to make their own signature sound from this immense legacy. The legends of American electric blues music such as B.B.King, Freddie King, Buddy Guy & Muddy Waters have all used an American designed and built guitar speaker to create their unique sound.

To provide this canvas each Harma ceramic American gem series speaker uses a vintage specified original American made cone. These cones use the same manufacturer, production techniques and composition of some of America most sought after classic guitar speakers. Each cone has been specially selected for its tonal texture after hundreds of hours of listening and recoding tests. The result is that each speaker has its own distinctive voice. Special attention has been paid to the speaker suspension, coil assembly and neck and edge treatments of each speaker. These features add up to a unique sounding American voiced guitar speaker.

The Harma G10 Clear Sapphire 50M 10 inch guitar speaker is an American voiced guitar speaker from The Harma speaker Gem American series. These speakers are Handmade in England and utilise traditional craftsmanship fused with modern day technology.

The challenge was to create a speaker that provided the tight bottom end of a 1960's era vintage British speaker, maintained the midrange punch of a tweed era ceramic that had a clear, clean top end response with just natural harmonics.

The Harma G10 Clear Sapphire 50M 10 inch guitar speaker will allow the natural sound of your amp and you're playing come through.

The tight bass end is complemented by a warm midrange which is smooth and retains that ceramic punch. It is in the upper mids and top end response that set this speaker apart from all the others.

The careful selection of components means that this speaker has a natural non aggressive top end. The cap selection allows a balanced clear high treble frequency with the natural harmonics of the cone. This will allow you greater control over the EQ of your sound so you can colour the tone to suit your individual sound. The upper frequencies have a natural warm clarity and presence with even balance. It provides excellent string intonation for broken or double stops chords to make you chords ring.

It features a 5 inch 40 oz ceramic magnet, 50 watts rms into 8 ohm, 1- 3/4" hand wound voice coil. The speaker cone is a specified vintage American cone which is the same cone from the same factory as Jensen used on many of its late 1950's early 1960's speakers.

The Harma Clear Sapphire also has a special edge treatment or doping as it is also known. This has been specially formulated for the American series as it allows the speaker to breathe and breakup harmonically and maximise this cones unique tonal character when used with a vintage or modern high gain amplifier in overdriven as well as clean situations.

The Harma Clear Sapphire as its name suggests has a clear and natural top end, a warm smooth midrange and has all the features that our customers wanted that was not available from any other manufacture. Indeed this was a speaker that I personally always wanted but could never buy.

Diameter-10 inch
Power Handling- 50 watts RMS
Nominal impedance- 16 ohm
Chassis style – American Style 8 hole
Chassis colour- Chelsea Blue
Chassis material-Pressed Steel
Sensitivity -98 db
Magnet-Ferrite
Magnet size-5 inch 40 oz
Voice coil-1.75 inch
Frequency response 75-5k
Resonance frequency- 75 HZ
Weight UN boxed- 3.25 kg