About Us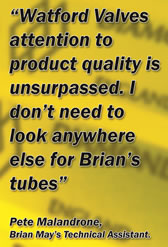 Watford Valves is unique in the fact that it offers advice on how the valve sounds in its particular application and will help the customer get the right valve for your musical style. This experience has been gained from over 30 years of playing and using valve equipment in both live and audio applications. Many valve resellers offer a limited choice of stock, and some even offer just one factory brand and try and claim that the make is the best across all valve types.
This is clearly incorrect as not even the great Mullard factory could make such claims.
In order to provide the advice you need to have the correct item in stock. So Watford valves maintains a large and comprehensive inventory of high quality new old stock and current production valves for the professional music and audio industry. All items that we stock must meet our stringent standards for sound quality and reliability. Being musicians and users of valve amplifiers all valves are assessed in real working conditions as to their actual sound. This allows us to advise you of the right valve for your amplifier and your sound. Our in house testing procedure ensures that you get the right quality first time.

With the aid of our custom built test rigs, we are proud to supply some of the industries biggest names including

AC/DC, ERIC CLAPTON, BRIAN MAY, OASIS, MANIC STREET PREACHERS, JOE SATRIANI, IRON MAIDEN, RADIOHEAD, SEX PISTOLS, SONY Studio's, THUNDER AND THE 'WE WILL ROCK YOU SHOWS' Worldwide.

We are equally as proud to supply the working professional, semi professional and non professional musician and help then in achieving the sound that their music demands. So weather your music ranges from Classical to Rock, Metal to Hard core punk, Country to Swing we are happy to help you achieve your sound.
"Watford Valves, with the aid of its custom-built test rigs, puts the valves under 'real working' conditions which is the equivalent of a hellish week with the US Navy Seals"
Ben Bartlett, Guitarist, Feb. 2001
Watford Valves "runs them through more checks than any other facility in the world"
Dave Hunter, Guitar Magazine, Nov 1999
Established by Musicians for Musicians Watford valves has become the first choice for supplying of tested, graded and guaranteed valves and components to the professional music and audio industry.
Ordering and Contact Details
We ship items all across the world and our web site is linked to our sales office where your order can be processed quickly and goods dispatched promptly.
If you have any enquiries that are not answered by our website please contact us by any of the means below.
Address:
Watford Valves & Speakers Ltd
49 Oakwood Road
Bricket Wood
St Albans
AL2-3PZ
UK
Telephone: +44-1-923-893270
Fax: +44-1-923-679207
Email:
sales@watfordvalves.com