Philips ECG JAN / 6L6WGB/5881-PHILIPS MESA SELECT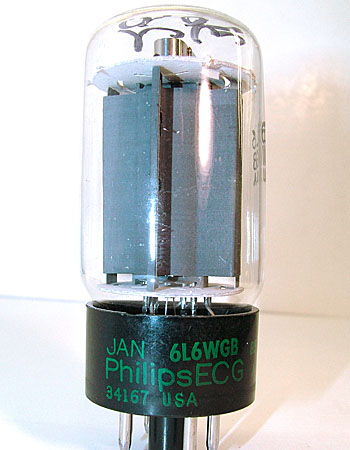 Click on image(s) above to view larger
BACK



All prices contained on this page are exclusive of VAT. This is currently charged at 20% and is payable by the UK only.





Philips electronics components group was the name given to the products marketed in America after Philips bought the American valve manufacturer Sylvania in the early 1980's. Sylvania was a major manufacturer of valves and Philips bought them to get the lucrative American Government and military contracts. These valves are of the highest military grade which offer outstanding performance and were all made in the USA.

Mesa Select for use in Mesa Boogies


This valve is specially selected to run in Mesa Boogies fixed bias arrangement and will work in all Boogie that use 6L6GC.

These are the original small bottle American Military JAN 6L6WGB/5881 that was made for the USA Military in the mid-1980's These are Full Jan Specification which means that they are long life and superbly made with the highest grade materials. No modern day 6L6GC valve is made to this specification.

The Philips 6L6WGB has had rave reviews across the world and offers the guitarist an immediate upgrade over modern made 6L6GC types.

I am not alone in thinking that the Philips 6L6WGB is the ultimate 6L6 type for use in any Fender amplifier. Indeed Mesa Boogie owners and many satisfied customers have also commented that with this valve they have achieved the sound they are looking for.

In reissue Fender bassman, for example no other valve gives a 59 bassman the early breakup and that rich midrange twang as this American classic. The bass response is big and tight with smooth warmth. It provides all the classic Fender sounds with ease. Solo's and riffs are punchy and fat and the Philips 6L6WGB does not get muddy and fizzy under extreme saturation. In a correctly set Hot Rod Deluxe and Deville one customer said that it made his amp sing.

The Philips 6L6WGB is equally at home in modern high gain amplifiers such as Mesa Boogies. In Mesa amplifiers this valve provides an excellent crunchy sound with a very clean and open treble. The sound of the Original USA made item that can only be provided by a USA made valve.

The Philips 6L6WGB is a military grade valve and therefore it exceeds all 6L6GC specifications so will work easily in Mesa Fixed Bias circuit, no need for special selection unlike modern 6L6GC.

This valve has satisfied some of our most committed Mesa owners over the years.

This is why this one of my all-time favourites 6L6WGB and the one that I have used in my own amps for many years. The specification of these valves are also different from the Early Tung-sol and R.C.A 6L6WGB valves as these can supply 30 watts plate dissipation without any problems and can run with 6L6GC anode voltages.
I have run these in a series of Silver face Fender Twins including the mean 135 twin and 135 Fender Bassman head over the years. I have also run these In a Mesa Boogie MK 4 and in 2012 I replaced the set I had put in my Mesa Boogie 400 plus bass head in 1997 after 15 years of trouble free service.

So if you want one of the best valves to power your sound then take advantage of these now before they are all gone.

We have dual matched and selected pairs and quads available.