Celestion Guitar Speakers / Celestion G12 A Type 50 16 Ohm
Click on image(s) above to view larger

FREE UK Mainland Delivery
BACK
All prices contained on this page are exclusive of VAT. This is currently charged at 20% and is payable by the UK only.
Hear sound clips of all our speakers here, click below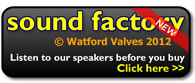 Celestion speakers started in Hampton Wick England in 1924. Celestion Radio Company and Celestion Limited were formed in 1927, and two years later the company moved across the Thames to Kingston. The company grew rapidly, but was hit by the depression.

Wartime restrictions forced Celestion and the nearby British Rola Company to produce loudspeakers to the same specification; British Rola bought Celestion in 1947 and formed Rola Celestion and moved production to Thames Ditton in 1949. Rola Celestion was bought by Truvox - a manufacturer of public address systems in 1949.

Celestion developed the first dedicated guitar speaker T0530, what came to be known as the Alnico Blue and with its marriage with the Vox AC15 and AC30 a legend was born. In 1968 the company started production in Ipswich, moving all production there by 1975. Celestion developed the speakers that then powered the Blues and Rock Revolution in the late 1960's and early 1970's with speakers such as the G12M Green Back and G12H. Over recent years Celestion have remade some of their finest and most sort after speakers.

Watford Valves have supplied speakers to the music industry for over 25 years and with the benefit of hindsight can honestly say that for guitar or bass Celestion's are the best speaker's money can buy.

*To price match call us*



The Celestion A type, as the name suggests, is a Celestion guitar speaker aimed at reproducing a more American sounding guitar tone.

Celestion have been very clever, by rolling off the speakers treble response at around 5 K
They have removed the fizz and harsh sizzle found in many American Speakers.
This works really well with modern High gain circuits and the speaker handles pedal overdrive, distortion and fuzz exceptionally well. When overdriven the speaker produces a smooth and warm sustain with plenty of clarity.

The A type also retains Celestions trademark three-dimensional quality but is more laid-back in the midrange department which gives the speaker more body and more clarity in the upper register.
The bass frequencies are very tight and round with plenty of depth.

The Celestion A type is a ceramic magnet guitar speaker has a 50-watt power handling and output sensitivity (SPL) of 98dB. It is designed to give a fluid, even performance with increased headroom with less aggression on solo's that allows your amp's sound to shine through.

Clean players will love the A-Type's smooth articulation as this work excellently in any vintage or modern Fender. Rock players will also love this speaker as it has the crunch without the fizz.