Philips ECG JAN / 5Y3WGTA-PHILIPS JAN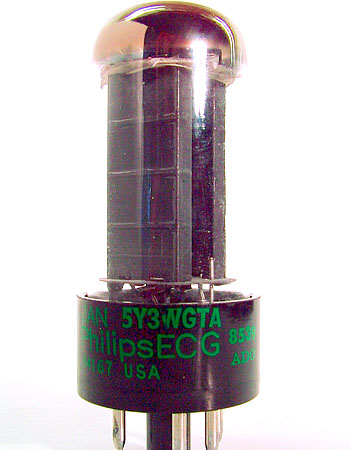 Click on image(s) above to view larger
BACK



All prices contained on this page are exclusive of VAT. This is currently charged at 20% and is payable by the UK only.





Philips electronics components group was the name given to the products marketed in America after Philips bought the American valve manufacturer Sylvania in the early 1980's. Sylvania was a major manufacturer of valves and Philips bought them to get the lucrative American Government and military contracts. These valves are of the highest military grade which offer outstanding performance and were all made in the USA.

These are the Original American military JAN specification Philips 5Y3WGTA with the rare black plate anode construction. These are one of the most rugged 5Y3WGTA rectifiers ever made as they were designed for military applications.

The Philips 5Y3WGTA Jan features a large box plate anode structure with the magic black/grey oxide coating. They were designed for military applications to be resilient shock, vibration and rattle hence the unusual box plate structure.

These features make the 5Y3WGTA Philips ideal for use in combo applications, especially Fenders and Mesa boogies or any amplifier that requires a high grade 5Y3. They will upgrade your amplifier from the stock Chinese and Russian items and provide the correct voltage because of its extremely tight design parameters

The 5Y3WGTA Philips is also an outstanding valve for Audio applications also and has the advantage of a long life span. They will upgrade your amplifier from the stock Chinese and Russian Slovak items due to their build quality and superior sound quality.
This is an outstanding rectifier as it out performs all the modern made 5Y3GT.