Celestion Bass Speakers / Celestion BN12 300S Neo 4 Ohm
Click on image(s) above to view larger
BACK
All prices contained on this page are exclusive of VAT. This is currently charged at 20% and is payable by the UK only.
Hear sound clips of all our speakers here, click below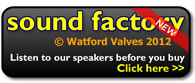 A test report is available click here to view



Celestion use the highest grade materials and components and make some of the finest bass speakers available.

Special Offer



The Celestion BN12 300S 4 Ohm provides 300 watts RMS power handling with a highly efficient fast response times that make it ideal rock players as well as funk players who want a snappy percussive response for slap bass. It is also super lightweight due to its Neodymium magnet so ideal in those 2 x 12 or 4 x 12 cabinets.

The speaker has with the same classic rounded rock sound with the tight low end definition that is associated with Celestion drivers, with a warm rounded response. The Celestion BN12-300S speakers feature enhanced mid-range punch to cut through the mix while delivering solid lows.

The cone material is Kevlar impregnated which gives a warm smooth even response.
The Neodymium magnet gives the fastest cone response with a quicker more dynamic attack when compared to ferrite magnet

This speaker is ideal for those rock players who want to retain the traditional warm rock sound. It works well for funk players who like to slap and pull and does not sound over bright even when using an active bass. In my own Ampeg 2 x 12 classic cab this unit will gave the cab a little more sparkle with the horn turned off.

If like me, you will appreciate the weight saving in your cab as at 2 am in the morning after your gig loading your cab in your car the benefits are, 2 Celestion 300s Neo weigh 8.8 compared to 2 ferrite h bass drivers weigh 14lbs so 1 stone, it's a real not brainer especially if you use these your 4 x 12. They will handle 1200 watts RMS. Hey now you can run any amp into your cab.