Rotosound Bass Strings / Rotosound RS 66LD Swing Bass 45-105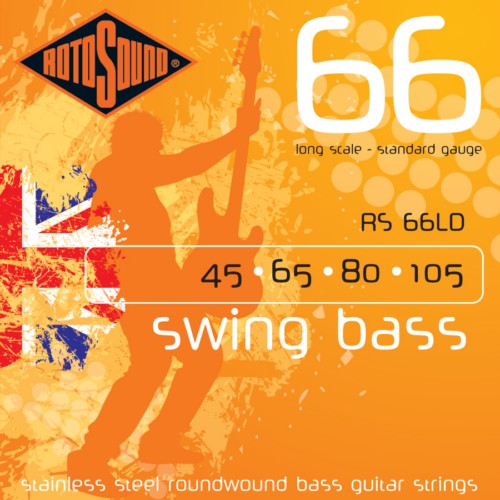 Click on image(s) above to view larger
BACK



All prices contained on this page are exclusive of VAT. This is currently charged at 20% and is payable by the UK only.





James How poineered the making of Roundwound bass strings in the early 1960's as a direct request from the late great John Entwistle. The rest, as they say is History and the Rotosound roundwound swing bass string was born. In nearly 50 years of production the Roto swing bass is the string that gives a Precision bass that classic gowel and a Rickenbacker the trade mark clank. Rotosound is still a family run business making some of the finest guitar and bass strings made today and used by many of the worlds leading artists.

Rotosound RS 66LD Swing Bass Roundwound Long Scale Electric Bass Strings .045-.105.

There is a good reason why Rotosound, one of the first stainless steel bass strings, are still being used and preferred by countless bass players. Rotosound stainless steel Roundwound bass string sets will give you outstanding brilliance and superb tone. Rotosound bass strings are handmade in England using the finest materials available. James How, "the bass string pioneer" introduced the first Roundwound stainless steel bass strings in 1962, changing the tone of bass players worldwide. They have been the favourite strings of great bassists from John Paul Jones and John Entwistle to Geddy Lee. The classic bass string that gives the Fender Precision bass its trade mark sound that has featured on hundreds of hit records and still the string that all others have to beat.


Specifications:

Stainless Steel Roundwound Gauges:
.045-.065-.080-.105
(Standard Gauge)
Long Scale: 34"