JJ Tesla / 6L6GC-JJ TESLA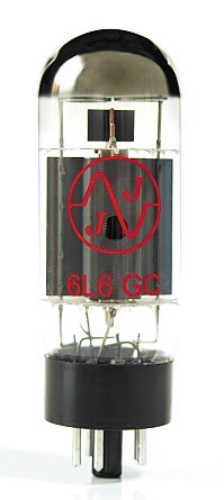 Click on image(s) above to view larger
BACK



All prices contained on this page are exclusive of VAT. This is currently charged at 20% and is payable by all EU countries.




A test report is available click here to view



The JJ factory was born out of the ashes of the former Tesla factory. They currently make a range of High quality valves based on some of Tesla most famous designs.

The JJ Tesla 6L6GC is a modern day valve that has some outstanding qualities.
The JJ valve features gold grid wire and uses high temperature alloy for the anode plates.
This provides excellent performance under the most demanding application.

Sonically the JJ also provides excellent performance as in clean playing applications
The JJ 6L6GC produces a clear treble with a warm and detailed midrange. This is great in Fender style amps as the top is open and very well extended.

In overdriven mode the JJ 6L6GC produces a rich more forward midrange which supplies a creamy overdriven sound which removes some of the harshness from the top end that many customers have experienced with Chinese made valves.

The JJ 6L6GC has been a long-time favourite of mine hence we buy a large quantity of these to ensure you get the best price.

For those of you who want the ultimate performance from a JJ 6L6GC then I would recommend our selected Cryogenic version. The cryogenic treatment is proven scientific process that permanently enhances the valves performance. The sound quality of the Cryo treated JJ is comparable with rare new old stock valves with a much higher price tag.

The JJ 6L6GC is available in dual matched pairs and quads which are matched on Plate current and gain.