Philips ECG JAN / 5U4GB-PHILIPS JAN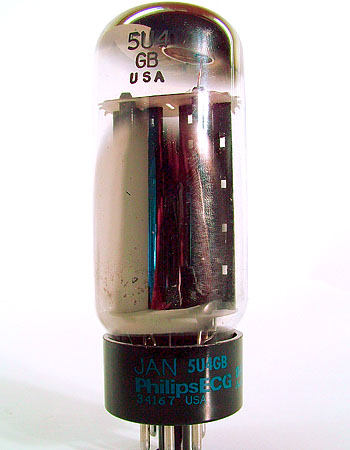 Click on image(s) above to view larger
BACK



All prices contained on this page are exclusive of VAT. This is currently charged at 20% and is payable by all EU countries.





Philips electronics components group was the name given to the products marketed in America after Philips bought the American valve manufacturer Sylvania in the early 1980's. Sylvania was a major manufacturer of valves and Philips bought them to get the lucrative American Government and military contracts. These valves are of the highest military grade which offer outstanding performance and were all made in the USA.

Original JAN specification 5U4GB made in the U.S.A by Philips to the highest military specification. The valve provides the exact rectification and long life as you would expect from a military grade valve.

In many users opinion the Jan 5U4GB was the best of its type. The valve features a ruggedised vibration proof box anode construction, Top and side getter to ensure that gas free evacuation was achieved and to maintain the vacuum at its best. The valve has a high grade filament isolation so even after long periods of use the filament will not degrade.

Finally, all these were run through the tightest quality control procedure to gain military acceptance.

The valve also has a higher current capacity than a 5U4G so is many players choice is Mesa Boogie Dual and Triple rectifiers and vintage Fender amplifiers.

This is an excellent 5U4GB and superb in all applications and guaranteed to outlive and outperform all of the current made rectifier valves.