Fender Pedals / Fender Pugilist Distortion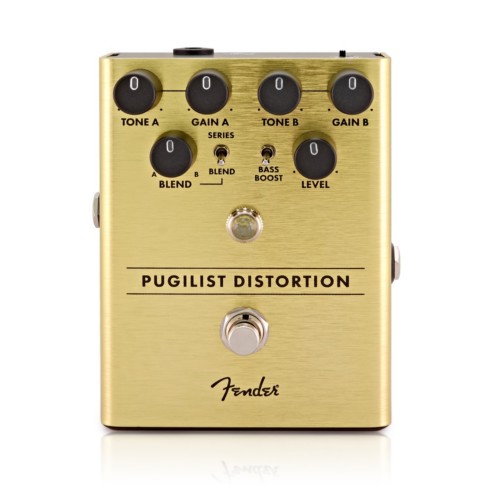 Click on image(s) above to view larger
Fender have made some ground breaking pedals over the years with a focus on reliability and performance. We stock some of Fender best sounding items.
Fender Pugilist Distortion
The Pugilist Distortion is a dual circuit drive pedal that features independent tone and gain controls The clever part of this pedal is in the blend control. This allows you to dial both gain circuits in together with a separate gain and tone control for each. This helps you go from rhythm distortion tones to fat saturated lead tones with ease.
Fender say The Pugilist Distortion is a fiery sounding and flexible pedal. This original design features dual gain engines pedal with independent tone controls for each engine allows you select multiple variations of distortion, ensuring this pedal will play well with any rig. Series/Blend switch lets you stack channels for thick, cascading distortion, while the Bass Boost switch fattens up your tone. The Blend control mixes the two channels to get the best of both worlds, crafting a sound just for you.
Designed by our in-house team of experts, the Pugilist Distortion is an all-original circuit. We consulted with a plethora of players while designing this pedal and the resulting stompbox is packed with stage ready features. The LED backlit knobs show your control settings on a dark stage at a glance.
Features
*Dual circuit distortion pedal
*Dual circuits can be cascaded for thick saturation
*Bass boost
*Series/blend lets you control the two circuits parallel or series operation
*Dual tone controls
*A very versatile pedal
*Powered by 9V battery or DC
Pre order item ETA 5 to 7 days
Once you have ordered We will contact you with the time frame