Genalex-Gold Lion RU / 300B-Gold Lion PX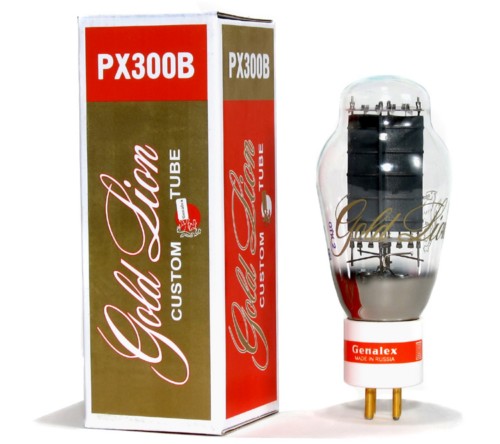 Click on image(s) above to view larger
BACK



All prices contained on this page are exclusive of VAT. This is currently charged at 20% and is payable by all EU countries.





The Original Genalex name was owned by the Marconi-Osram Valve Company with the Genalex in the name used in the U.S.A. The Gold Lion was a specially selected and factory tested version. The Sovtek Corporation has reintroduced these valves by producing a faithful reproduction of these classic valves made in Russia. These valves are factory selected and are close visual and sounding re makes of some of Gold Lions the best sounding valves.

The Gold Lion PX300B is considered by many as one of the best 300B made today.
The design is based on Western Electric construction styling but uses upgraded materials.

The valve features quadruple spring loaded filament and cathode supports to provide excellent stability. They have used solid cup getters with gold plated grids as well as contact pins.
The pins are housed in a ceramic base and they have used a heavy glass envelope shaped in the
beautiful classic ST-shape.

The Gold Lion 300B PX has had great reviews the world over it is noted for its full sound which is fast and dynamic and very musical reproduction. Gold Lion claim This is the highest quality 300B type available and they considered it to be an upgrade in any 300B amplifier.

These are available in special factory matched pairs only and are priced individually.