Fulltone Pedals / Fulltone Full Drive 3 Overdrive Jfet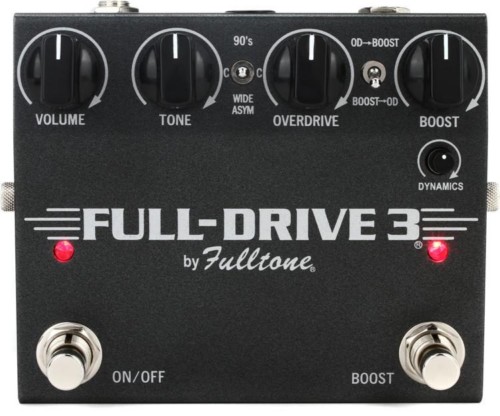 Click on image(s) above to view larger
BACK



All prices contained on this page are exclusive of VAT. This is currently charged at 20% and is payable by the UK only.





Mike Fuller started Fulltone in 1991 while working as a session guitarist. Fulltone pedals were born out of a love for music, great gear, great tone, and a desire to make bullet-proof products. The OCD is still the go to pedal and as Don Felder of the Eagles said- I love the Fulltone OCD pedal and use it in EVERY pedal board I own

The Fulltone Fulldrive 3 gives a new flavour to the legendary Full Drive 2 and a sound that fellow valveaholics will love.

So what is different? FD3 uses both a JFET input and a JFET op-amp, giving it the most valve like sound you can get out of a valve less pedal. JFETs give the FD3 ultra-high Input impedance which allows the pedal to mate with any gain of pickup and react well to changes in your guitar's volume control.

3-way clipping toggle switch:
1-Set the switch to 90's and you will get symmetrical clipping with ample midrange.
2- Set the switch to WIDE ASYM (wide asymmetrical) and more sweet highs and lows come through, along with chimey, Class-A style even harmonic overtones.
3-Set the switch to COMP CUT mode and enjoy pure opamp-overdrive, with no diode clipping assistance. This provides an aggressive, cutting, and huge volume boost to the input of your amp.

Discrete Channels:
Unlike the FD2, the FD3 has completely independent OVERDRIVE and BOOST channels and the ORDER toggle switch allows you to place the BOOST channel either before or after the OVERDRIVE channel. The BOOST channel is also an extremely transparent, high-headroom 100% JFET-powered circuit.

Buffered Bypass
FD3 pedals have buffered bypass instead of True-Bypass, so the FD3 will always drive long cables, be isolated from other effects, and always retain the highs and feel of your amplifier whether the pedal is turned on or off. Do not confuse the hi-quality JFET op-amp buffer in the FD3 with the simple single transistor buffers on other pedals. The FD3s buffer sounds rich and fat, not thin.

Fulltone Exclusive-Dynamics knob

A Fulltone exclusive Germanium diode Limiter circuit that alters the feel of the notes being played as well as subdues transient spikes which can overload your amp's input. This feature can make even a stiff amp feel responsive and juicy, and sweetens the treble frequencies.