JJ Tesla / 2A3-40-JJ TESLA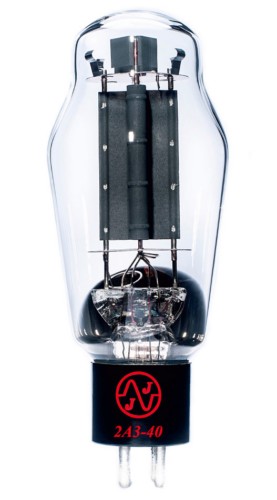 Click on image(s) above to view larger
BACK



All prices contained on this page are exclusive of VAT. This is currently charged at 20% and is payable by the UK only.





The JJ factory was born out of the ashes of the former Tesla factory. They currently make a range of High quality valves based on some of Tesla most famous designs.

The JJ 2A3 40 has established itself as one of the best 2A3 types for audio applications.
The JJ 2A3 offers 40 Watts of plate dissipation which far surpasses the dissipation rating of vintage 2A3 which is only 15 Watts.

The JJ valve features carbonised anode with 24 carat gold plated control grids with a nife alloy core. The JJ is has superb build quality with a robust construction and extra thick high grade glass.

The first thing we noticed in the World Audio Design 2A3 PSE test amplifier was that the JJ had more life and more get up and go than any other 2A3. JJ valve added a real musical sonic sweetness with an excellent balanced sound. The valve was also immensely accurate and involving and better than my reference RCA and Fivre 2A3. The valve also had plenty of bottom slam that is particularly good on modern rock music and has excellent separation on complex musical passages.

These JJ 2A3 valves are factory selected and are dual matched on anode current and gain. Every pair is inspected at the factory and comes with test certificates for each valve. The valves come in an attractive JJ box. We now only stock this 2A3 as it offers exception sound quality at a sensible price.

These are priced individually but are only supplied in Factory matched pairs, so you will need to order a minimum of 2 pcs. We do not sell single items or odd multiplies of this product.