Tungsram / E88CC/6922-TUNGSRAM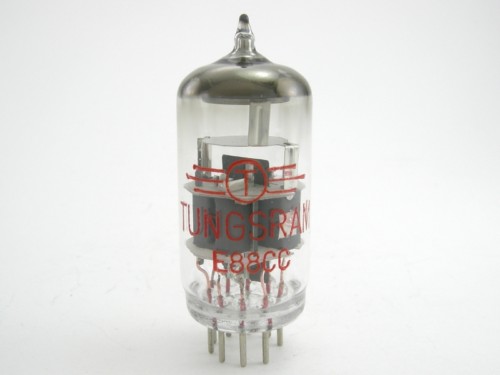 Click on image(s) above to view larger
BACK



All prices contained on this page are exclusive of VAT. This is currently charged at 20% and is payable by all EU countries.




A test report is available click here to view

The Tungsram factory was the Hungarian factory that was one of the most respected factories in the world. It was renowned for itís quality control and great sounding signal valves.

E88CC/6922 Tungsram is known for its nicely balanced sound and superb detail and dynamics which lifts the veil and muddiness off your pre amp or CD player. The valve has great neutrality not the over blown midrange that characterises so many European 6922 and E88CC. The Tungsram is also super quiet which is why we had so many satisfied customers when we last had these in stock over 10 years ago.

These are old production Tungsram E88CC and come to us from a military source.
Each valve was specially selected by Tungsram for the military and Tungsram Industrial Grade individual serial number printed in Red on the Glass with the factory certificate with the serial number also printed on it. The Industrial grade Tungsram valves were subject to the most rigorous factory test and burn in process. These tubes were produced in Hungary in very limited quantities

These come in the original blue and red Tungsram box and offer outstanding audio sound quality. The E88CC is a direct replacement for this and 6DJ8, ECC88, 6922 and Chinese 6N11.


Related Products
Comments