Keeley Pedals / Keeley Red Dirt Overdrive 2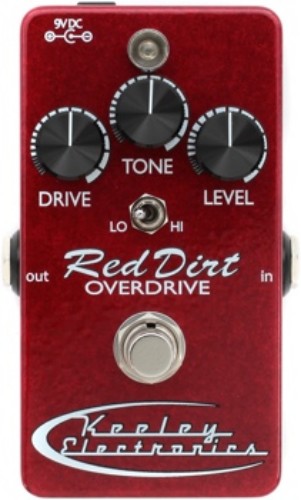 Click on image(s) above to view larger
BACK



All prices contained on this page are exclusive of VAT. This is currently charged at 20% and is payable by all EU countries.





Robert Keeley is one of the best Guitar pedal designers and modders in the music industry. The worlds biggest stars and producers use his pedal from Steve Vai to U2 'The Edge'.

The Red Dirt overdrive is a Roberts's unique design to produce the world finest classic drive sound while also offering new levels of sonic versatility to satisfy a wider range of musical styles.

Robert Keeley designed this pedal and used the great sounds found within his original Tubescreamer mods Mod Plus" and Baked" modified pedals and added refinements found exclusively in his custom pedal line.

By incorporating classic sonic signature tones and using premium components, FET input stage Robert has created a pedal that has unrivalled transparency and clarity and valve like sound which many guitarist desire in an overdrive pedal.
The Red Dirt overdrive has a number of excellent features.

1-Dirt control that offers an extremely dynamic, touch-sensitive gain at both mild and heavier sustain settings.

2- Tone control that delivers an extended range of useable voicing to match the needs of virtually any guitar and amp combination.

3- Volume control that can effectively balance the signal or push an amp into further sustain and overdrive with authority.

4- Hand-built in the U.S.A. using the finest components and construction techniques.

5- True bypass switching for pure tone and no signal loss

6- Low Current, less than 10mA. 9V DC

The Mark 2 version has improvements made to the circuit and resistors giving a smoother more even overdrive.