Shuguang Valves / 845B-SHUGUANG GRAPHITE PLATE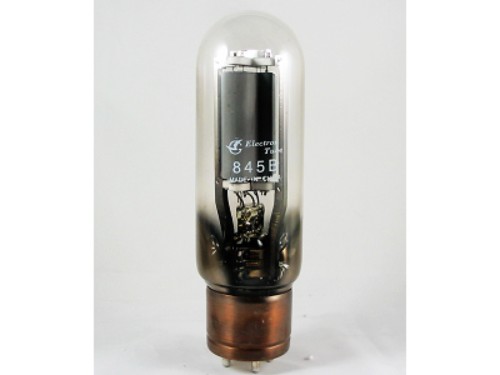 Click on image(s) above to view larger
BACK



All prices contained on this page are exclusive of VAT. This is currently charged at 20% and is payable by the UK only.





Chinese manufacture who makes a wide range of audio and transmitting tubes such as 211,805 and 845. Shuguang have made over 80% of the worlds 300B. They also make the most popular guitar valves which are used by many amplifier manufactures.

Last Pair



The 845 B Shuguang is structurally a very close copy of the 1940s vintage Amperex brass base 845. It has a high purity carbon graphite plate and the vintage style brass base.

The Shuguang factory has made a number of improvements over the standard 845. The Shuguang 845B eliminates the mica bridge which braces the plate structure against the top of glass envelop by having strong posts that are anchored in the valve base and run up on both sides. This prevents the plate structure from movement and rattles and more importantly prevents internal vibration, which is the key to why this valve sounds so much better than the standard 845.

Other improvements include increasing the distance by 35mm between anode and grid leading wires which improve the insulation and reduces the medium loss of stem glass .This prevents the issue of stem blown and air leak from stem that older items suffered from.

These 845B have full 845 100 watt dissipation ratings and 1250v plate rating and come printed thermionic in a factory presentation box The valves are factory matched and selected and then retested here in the UK to ensure you get the best quality. Each valves comes individually serial numbered and with its own full test certificate.

A review by Roger Gordon for Positive Feedback states the advantages of the Shuguang 845B tubes over the standard Shuguang 845 included less noise, better handling of low frequencies, a smoother, more natural sound, and greater detail. It is like going from a $1500 preamp to a $4000 preamp. You can enjoy the music through both, but once you have heard the $4000 preamp it is hard to go back to the cheaper one.

These are available in matched pairs only and are priced individually.