General Electric Cryo / ECC83/5751-GENERAL ELECTRIC-CRYO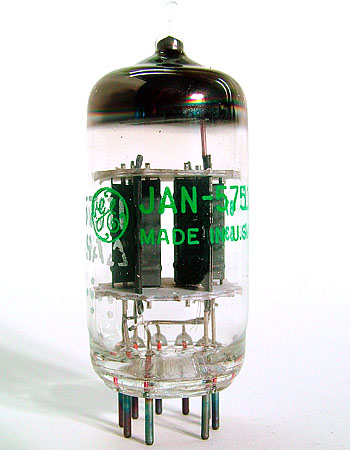 Click on image(s) above to view larger
BACK



All prices contained on this page are exclusive of VAT. This is currently charged at 20% and is payable by all EU countries.




A test report is available click here to view



Watford Valves has cryogenically treated some of the more popular and best sounding General Electric valves. This process makes a permanent change and the benefits do not deteriorate over time or upon return to operating temperature, it changes the whole way the vacuum tube performs. The biggest benefits I have found has been a dramatic improvement in dynamic range. Bass response has been clearer with reduction in microphonics. The soundstage is bigger with more detail with a big reduction in the noise floor. The really most starling fact has been how the valve operates under saturated and overdriven conditions in guitar amplifiers. The distortion is smoother with less hardness and is musically pleasing to the ear.

The American Made General Electric 5751 is a superb sounding valve for audio as well as guitar applications. It was used in audio by the high end audio manufacturer CONRAD JOHNSON in their most expensive designs and was used by STEVIE RAY VAUGHAN in his Fenders.

The tube has a lower amplification of 70 mu as opposed to a 100 mu of a ECC83/12AX7. This makes it harder for the valve to distort and therefore an ideal choice when the best clean sound is required. The 5751 has the classic sound stage that G.E tubes are known for with plenty of top end detail and clarity. These are a great choice for taming down that hard Hi gain sound. They are also a superb audio tube providing sharper imaging and detail than standard ECC83/12AX7 types.

This in my opinion the best sounding 5751 as the Cryo treatment enhance the valve performance giving greater clarity and definition over the standard type.

Balanced option
The special balanced item has matched triode sections for use in critical positions in audio amplifiers tube compressors, phase inverter position, tube microphones or input positions where balanced operation is required.