Mullard Cryo / ECC81/CV4024-MULLARD CRYO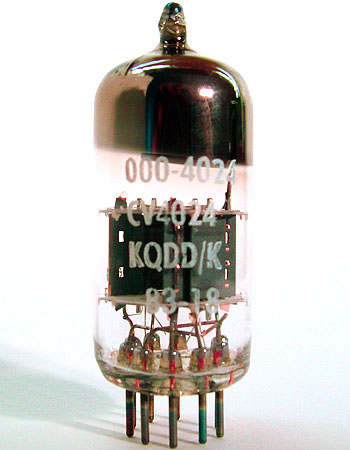 Click on image(s) above to view larger
BACK



All prices contained on this page are exclusive of VAT. This is currently charged at 20% and is payable by all EU countries.




A test report is available click here to view



Watford Valves has cryogenically treated some of the more popular and best sounding Mullard valves. This process makes a permanent change and the benefits do not deteriorate over time or upon return to operating temperature, it changes the whole way the vacuum tube performs. The biggest benefits I have found has been a dramatic improvement in dynamic range. Bass response has been clearer with reduction in microphonics. The soundstage is bigger with more detail with a big reduction in the noise floor. The really most starling fact has been how the valve operates under saturated and overdriven conditions in guitar amplifiers. The distortion is smoother with less hardness and is musically pleasing to the ear.

This is a cryogenically treated Mullard CV4024 is the best sounding Mullard ECC81 available today.

The Cryogenically treated Mullard CV4024 transforms this great sounding ECC81 into the one of the best Audio valves money can buy. The valve has more detail in the top end and more sonic clarity. The midband has greater depth and sharper imaging. The Bass end also benefits from greater weight and definition. These sonic features the standard valve simply cannot match.

The Mullard ECC81-CV4024 has the CV4024 markings which were the UK Government designation which indicated the special quality RAF valve that was specially designed to work in the most difficult operating conditions. This valve was specially designed for long life and shock resistant up to 500g and with a high temperature rating.

The CV4024 has the famous double ribbed ladder plate anode structure and feature large wide ribbed plates with special copper plate supports that suppress microphonics which makes these valves very low in microphonics.
They were supplied to NATO forces across the world and therefore used the highest quality components and underwent strict quality controls.

They are simply made better; they last longer, have less noise and have conformity to the high specification design parameters. So when you compare this to modern ECC81 and you will understand why we do not stock any of modern made ECC81.

When you listen to these you instantly get that classic Mullard sound when used to drop the gain in your amplifier or pedals. Sonically the valves are warm and clean with excellent top end extension.

The Cryo treated Cv4024 is certainly the best Mullard ECC81 available. The Cv4024 is a great valve to use in guitar amplifiers as well as high end audio due to its outstanding performance. The cryogenically treated version is simply takes the sound to another level.