Harma Valves / KT66-HARMA RETRO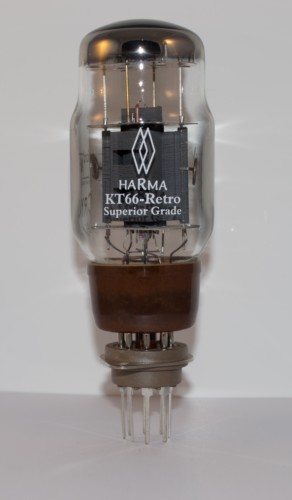 Click on image(s) above to view larger
BACK



All prices contained on this page are exclusive of VAT. This is currently charged at 20% and is payable by all EU countries.




A test report is available click here to view



Harma valves consist of a selected range of valves that are chosen after meeting stringent standards for sound quality and reliability. These valves are sourced from current production as well as some of the finest Nos valves available. Unlike our competitors no Harma valves, past or present has been made in China. Harma valves represent the finest available items of their type available.

Harma valves are tested using a range of custom designed and built test rigs which are unique to Watford valves.These unique tests are not offered by any other valve supplier in the world.

All Harma pre amp valves undergo the drive rating system; the valve undergoes a series of through tests under full operational conditions. This involves a controlled burn in process to ensure perfect stability and correct ageing. A shock and vibration test, microphoney, hum, and a balance and symmetry test.

All Harma output valves undergo our own unique real world burst testing. No other supplier tests valves this way. The burst testing process involves a series of varying timed electrical signal bursts. This runs the valves under the same stress conditions that they will meet in your amplifier especially when overdriven. All out put valves are then dual matched by us on anode current and gain. This will ensure that you get the best selected valves available anywhere in the world.

The Harma KT66-Retro is a meticulous recreation of the famous Marconi Osram KT66 and follows the original design and electrical specification of original Marconi Osram valve.

The Harma KT66 Retro uses gold plated grid wire with carbonized screen grids. The anode plates use a tri-alloy clad plate structure which gives exceptional performance and sound quality. The Harma KT66 Retro share the same anode design and bottle shape as the original and it also has the top mica supported with spacers on the 4 corners to prevent rattle and is made with a brown replica base just like the Marconi Osram and General Electric KT66

In Marshall or any plexi style amplifier these will supply the famous blues breaker tone. The Harma is also the best Audio sounding KT66 and is ideal for use in Quad 11 amplifiers and will put back the heart and soul in modern and classic amplifiers.

Marshall and Quad owners will rejoice as electrically the Harma KT66 Retro is selected to draw the same anode current and GM as a typical batch of GEC KT66 would. This is around 20 m/a less than the current drawn by the Chinese item Marshall use in there Vintage and Modern amp. So makes it easier for your technician to install these in your favourite amplifier and set the bias correctly.

All Harma KT66-Retro valves are burst tested on a special valve testing rig. The valve undergoes full drive testing under the most extreme conditions with a series of timed signals that replicate the stress that a valve will encounter in real working conditions. This is designed to ensure the ultimate reliability.

The valves are then dual matched on anode current and gain. Please note that we do not supply these in single items we can only supply these in matched pairs, quads etc.