Keeley Pedals / Keeley White Sands Luxe Drive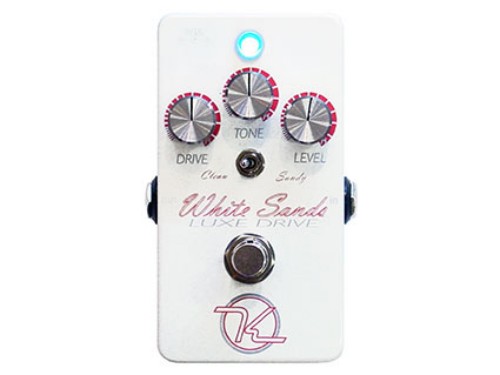 Click on image(s) above to view larger
BACK



All prices contained on this page are exclusive of VAT. This is currently charged at 20% and is payable by all EU countries.





Robert Keeley is one of the best Guitar pedal designers and modders in the music industry. The worlds biggest stars and producers use his pedal from Steve Vai to U2 'The Edge'.

The Keeley White Sands Luxe Drive is a light overdrive pedal which has been designed to specifically supply the sound of a valve amp on the edge of break up.

The design of this pedal had to have a totally new approach to satisfy the demand of many top American guitarists who wanted a pedal that would enhance their sound. So this is in essence a low gain overdrive pedal.

The pedal has two modes of operation Clean and Sandy.

Clean mode-
The pedal offers some very light overdrive to replicate a valve amplifier just starting to break up.
Keeley have designed the White Sands pedal to use asymmetrical clipping that clips or distorts half of the guitar signal more than the other half. This replicates how the valve performs under clipping and therefore it has the characteristics of a valve amplifier. In the clipping stage the Keeley circuit is designed to keep the bass response tight by making sure bass frequencies dont get muddy when they are distorted. What you get is a classic Rock-n-Roll sound.

Sandy mode-
This mode is great for Rock and Blues players as it designed to give you a dirtier sound with more bite and presence for when you take a solo or when you need that little bit more presence on your rhythm track. This is the mode to use if you want to get downright dirty.

A lot of work goes into making a pedal sounds like a valve amplifier especially when you are trying to get that just breaking up sound loved by Rock-n-Roll artists across the years. This pedal really gets the sound spot on for a lightly driven old school valve amp, with its tight low end and shimmering highs this pedal sounds great across the board.

The White Sands uses the Keeley designed JFET input buffer which is also used in the Red Dirt and Seafoam chorus, to capture your pickups nuances without loading them down which prevents the pedal destroying your signal.

What this pedal does and why should I use this over a regular overdrive pedal?

This is a low Gain pedal with tone control circuit that doesnt boost the mid-range frequencies.
If you don't want the humbuckers on your guitar to sound muddy, you don't want to mask the sound of your amplifier and you don't want to lose the twang of your Fender Stat or Tele.

If you want clear transparent guitar sounds with vintage warmth and the ability to control the high end without it getting fizzy. Then the Keeley White sand luxe drive is the overdrive pedal for you.